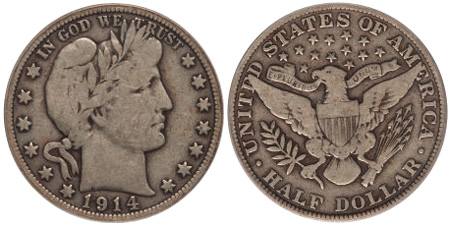 The lowest mintage issue of the series is the 1914 Barber Half Dollar. This is one of several lower mintage issues struck at the Philadelphia Mint near the end of the series. The other dates are the 1910, 1913, and 1915.
Despite its status as the mintage low of the series at 124,230 pieces, it is not generally considered a key date. The 1914 Barber Half is rivaled by other issues which are exceeding scarce in mint state grades such as the 1896-O and 1904-S.
The 1914 Barber Half Dollar carried a premium across all grade levels. It also becomes quite scarce at the gem level, with only 15 pieces graded MS65 or finer by the major grading services. An example graded PCGS MS65 sold for $9,775 at an auction held in January 2009.