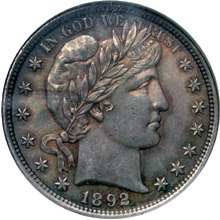 The Barber Half Dollar was produced from 1892 to 1915 inclusive. For each year from the introduction of the series until 1905, coins were minted at the Philadelphia, New Orleans, and San Francisco Mints. Starting with 1906, some dates were also minted in Denver. After 1909, coins were no longer minted in New Orleans. Coins were produced at the Philadelphia Mint every year of the series.
The lowest mintage coin is the 1914 Barber Half Dollar with only 124,230 pieces struck. This is closely followed by the 1913 and 1915 coins, which also have fewer than 200,000 produced. The true rarities for the series occur for some San Francisco minted coins, which are exceedingly difficult to find in high grades.
Despite the higher mintage of 553,038 pieces, the 1904-S is the scarcest non-variety issue of the series in mint state grades.
The table below displays the mintage figures for each date and mint mark combination of the series.
| Issue | Mintage |
| --- | --- |
| 1892 | 934,000 |
| 1892-O | 390,000 |
| 1892-S | 1,029,028 |
| 1893 | 1,826,000 |
| 1893-O | 1,389,000 |
| 1893-S | 740,000 |
| 1894 | 1,148,000 |
| 1894-O | 2,138,000 |
| 1894-S | 4,048,960 |
| 1895 | 1,834,338 |
| 1895-O | 1,766,000 |
| 1895-S | 1,108,086 |
| 1896 | 950,000 |
| 1896-O | 924,000 |
| 1896-S | 1,140,948 |
| 1897 | 2,480,000 |
| 1897-O | 632,000 |
| 1897-S | 933,900 |
| 1898 | 2,956,000 |
| 1898-O | 874,000 |
| Issue | Mintage |
| --- | --- |
| 1898-S | 2,358,550 |
| 1899 | 5,538,000 |
| 1899-O | 1,724,000 |
| 1899-S | 1,686,411 |
| 1900 | 4,762,000 |
| 1900-O | 2,744,000 |
| 1900-S | 2,560,322 |
| 1901 | 4,268,000 |
| 1901-O | 1,124,000 |
| 1901-S | 847,044 |
| 1902 | 4,922,000 |
| 1902-O | 2,526,000 |
| 1902-S | 1,460,670 |
| 1903 | 2,278,000 |
| 1903-O | 2,100,000 |
| 1903-S | 1,920,772 |
| 1904 | 2,992,000 |
| 1904-O | 1,117,600 |
| 1904-S | 553,038 |
| 1905 | 662,000 |
| 1905-O | 505,000 |
| 1905-S | 2,494,000 |
| 1906 | 2,638,000 |
| 1906-D | 4,028,000 |
| 1906-O | 2,446,000 |
| 1906-S | 1,740,154 |
| Issue | Mintage |
| --- | --- |
| 1907 | 2,598,000 |
| 1907-D | 3,856,000 |
| 1907-O | 3,946,000 |
| 1907-S | 1,250,000 |
| 1908 | 1,354,000 |
| 1908-D | 3,280,000 |
| 1908-O | 5,360,000 |
| 1908-S | 1,644,828 |
| 1909 | 2,368,000 |
| 1909-O | 925,400 |
| 1909-S | 1,764,000 |
| 1910 | 418,000 |
| 1910-S | 1,948,000 |
| 1911 | 1,406,000 |
| 1911-D | 695,080 |
| 1911-S | 1,272,000 |
| 1912 | 1,550,000 |
| 1912-D | 2,300,800 |
| 1912-S | 1,370,000 |
| 1913 | 188,000 |
| 1913-D | 534,000 |
| 1913-S | 604,000 |
| 1914 | 124,230 |
| 1914-S | 992,000 |
| 1915 | 138,000 |
| 1915-D | 1,170,400 |
| 1915-S | 1,604,000 |