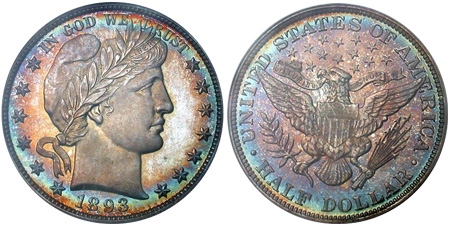 Proof Barber Half Dollars (Buy on eBay) were struck for collectors every year of the series from 1892 to 1915. Mintages were generally small, ranging from a high 1,245 Proofs sold in the first year of the series to a low 450 minted during the last year. Besides the first year when demand was greatest, all proof issues had mintages below one thousand pieces. Production of proof coins took place at the Philadelphia Mint only.
Most Barber Half Dollar proof coins are of high quality, although many have been dipped or cleaned at some point. Originality is an important factor, as well as the appearance of frosted devices and deep mirrors need for the Cameo and Deep Cameo designation.
The table below displays the mintage figures for Proof Barber Half Dollars.
Proof Barber Half Dollar Mintages
| Issue | Mintage |
| --- | --- |
| 1892 | 1,245 |
| 1893 | 792 |
| 1894 | 972 |
| 1895 | 880 |
| 1896 | 762 |
| 1897 | 731 |
| 1898 | 735 |
| 1899 | 846 |
| 1900 | 912 |
| 1901 | 813 |
| 1902 | 777 |
| 1903 | 755 |
| 1904 | 670 |
| 1905 | 727 |
| 1906 | 675 |
| 1907 | 575 |
| 1908 | 545 |
| 1909 | 650 |
| 1910 | 551 |
| 1911 | 543 |
| 1912 | 700 |
| 1913 | 627 |
| 1914 | 380 |
| 1915 | 450 |